They were exactly where they said they were: Arizona between 2nd & 3rd.
It's not often that a food truck graces Malibu with its presence, so when I saw that
CalbiBBQ
's next destination was sort-of-kind-of in my 'hood, I decided to head on over. To my surprise there was no line but rather a small crowd - I'm guesstimating 8 people - of individuals about to taste what this hot truck had to offer. People were asking, "Have you tried this before? What's good here?" I didn't know any better than those around me, we were all newbies to CalbiBBQ, so I went ahead and ordered what sounded the best: a kimchi quesadilla with a short rib beef taco. I paid with a $10 bill, gave tip
and
still had some change! I guess that's part of the food truck appeal; cheap, affordable eats.
My friend Becca and I had intentions of waiting 'till we got home to dine on our Korean x Mexican combo, but instead we ate on our own wheels - in the car! Becca and I added spicy hot sauce to our taco before even trying it, but I'm pretty sure it was already pretty pepped up to begin with. The cooked calbi beef topped with fresh ingredients almost made me forget that I just ordered a taco off the street. The kimchi in the quesadilla was masked over by the cheese - but you guys know me, I loooove cheese, so that's not really a complaint. My pictures don't do justice to the food, I apologize. (I'm mainly talking about the quesadilla...) The lighting just wasn't right in the car; I promise it tastes better than it looks!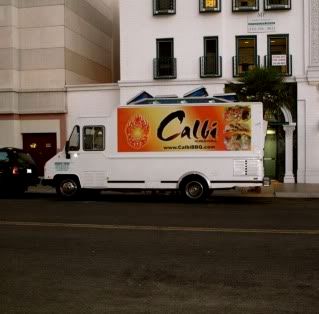 Follow CalbiBBQ on Twitter @
www.twitter.com/CalbiBBQ