So I tried a new "cuisine" if you will: the macrobiotic cuisine. Macro-bye-what-ic?
Yes, I went to
M Cafe
in downtown Culver City and had a balanced, nutritious meal that consisted of no refined sugars, eggs, dairy, red meat or poultry. And the best part is, I ENJOYED it! That's some creative cooking right there...
M Cafe prides itself in contemporary macrobiotic cuisine that is popular with the likes of Gwyneth Paltro and Madonna. Honestly though, it's not even about what the celebs are doing... Don't think: fad diet, think more: a lifestyle. It's about whole, natural foods that we put in our body to give us positive energy as fuel. I read a bit on macrobiotics and it is not to be confused with a raw-foods diet.
My friend Claudia and I spent the afternoon under the lemon yellow awnings that shaded the outdoor customers on such a bright, sunny day. The light wood interiors kept the inside looking cheerful, vivid and fresh - just like the food! Soups, salads, sandwiches, wraps, sushi and more are prepared in the culinary styles of a few different nations. Comfortable and familiar textures are used so don't worry about that silly stuff. I say, if you want to stay well, look good and live long, experience the healthy world of macrobiotic cuisine! For me, it was a nice change and I want to go back and try other things on the menu. But I
will
go home and bake afterwards ;)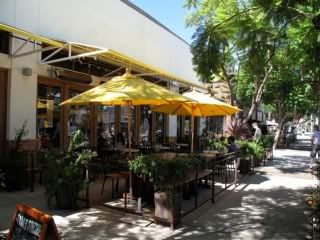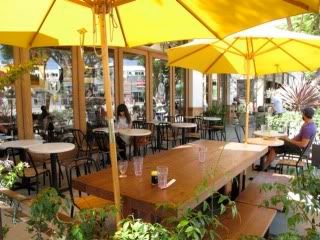 California Club