The Mondrian
on Sunset Blvd was the location for celebrating Dad's last night in Los Angeles. To be more specific:
Asia de Cuba
. Of course he will be back again, but we like to make occasions out of "last nights." It's just how we do...
Asia de Cuba's new design decor -can you say white-on-white- can be attributed to none other than Philippe Starck, who seems to be dabbling in lots of restaurant interiors for the city of angels. Making for an even more unique dining experience, the Los Angeles skyline is framed by the windows upon entering. A fusion of Asian and Cuban cuisine keep the menu interesting and innovative - just know that appetizers and entrees are meant to be shared, "family style" as we like to call it. A few of the highlights were the butterfish and the pork roast. It's a bit ironic because my family has eaten at Asia de Cuba twice before, and the reason we come back is for the beef short ribs... This time, the ribs seemed to have changed. I swear they used to be bigger, meatier and more tender! It's alright though, now's not the time to complain about beef short ribs... Bon Apetit!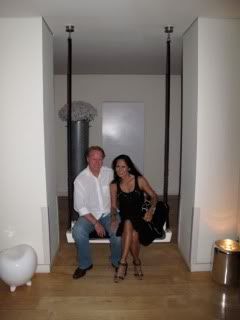 Tony & Bebette