Now that my parents are staying with me and Chris, I told them that they needed to get the full beach-town experience of the Malibu bubble. We can't always be driving into LA for this and that. It seemed fitting to visit the historic Malibu Pier; a landmark that Malibu locals and out-of-towners alike can't visually miss while driving along the coastal highway.
Chris and I took my parents to the
Malibu Pier Club
for dinner, it was actually a first-time trip for everyone. By the time we arrived, the sun had set meaning we missed the views of Santa Monica and Catalina in the distance. None the less, the waves on Surf-Rider beach crashing ashore and the ocean mist still kept the seaside atmosphere very much alive. The CCCC [Casual Californian Coastal Cuisine - totally just made that up] on the menu is made up of exciting cocktails, sharing-sized appetizers and beachy meals. This new restaurant on the pier definitely breathes some life into the previously-empty space, marking a new chapter in the pier's history!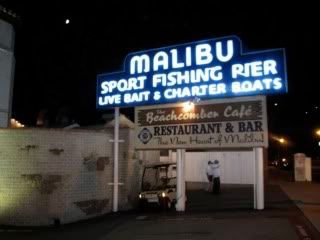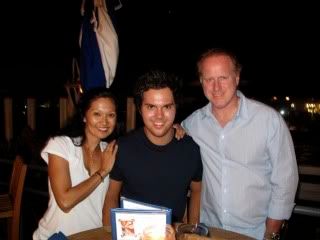 Kobe Burger

American Kobe beef, two slices of bacon, tomato, onion, sun-dried tomato aioli and cheddar cheese
Boneless Kobe short ribs cooked slowly until tender, served with wild mushrooms, walnut and Gorgonzola filled ravioli and Merlot-thyme jus
Clay Pot Roasted Chicken
Roasted chicken with oil cured black olives, Marcona almonds and a natural jus