With all the +positive+ feedback
Kind Campaign
has been getting in the last few weeks, a celebration was called to order. Trust me, it was very well deserved! In attendance: Lauren, Molly, Chris -our new cinematographer- and myself. In fact, Molly and I had never met Chris until dinner, so it was also a meet 'n greet if you will :)
Dinner took place at the month-old restaurant and lounge,
Cache
. Formerly the old Hidden spot, this restaurant and garden lounge got two thumbs up from all 4 of the Kind Campaign crew. We didn't sit in the outdoor tree-lined patio, but instead in the dimly lit section with light charcoal stone walls. As we were in a bit of a camera frenzy, the "faux candle" light source came in handy as the sunny sky turned into night during the course of our lengthy meal.
We decided to share, that way we could try more from the dinner menu. There is a separate bar menu as well, but both celebrate California harvest by being seasonal and market-based. A few of our favorites from the contemporary American cuisine would be the pull-apart flatbreads and the truffle parmesan fries. I DIE. These are addictive and dangerous in large quantities. The food came all at once, which was a bit overwhelming seeing so many plates on the table - served in different phases would have been nice and a little more enjoyable. No biggie, the food was still delish and dessert was delectable! Look below for the deets!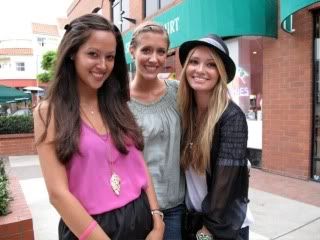 Peach Crumble w/ Vanilla Ice-Cream
Hazelnut Pot de Creme