When I say "Fro", you say "Yo!"
Declining dessert at Izakaya, we had another idea in mind that would still satisfy our sweet craving. Staying in the WeHo area, we drove up to Angelina on Santa Monica Blvd for a little cold, creamy, guilt-free frozen yogurt. Angelina has gotta be brave; they set up shop almost directly across the frozen yogurt giant, Pink Berry. They have way more flavors at Angelina (10 or so?), not just the tart natural kind. The toppings are the same usual suspects that you find in every establishment following the fro-yo trend. Testers of course are allowed, and are pretty generous here too. The nice thing is that parking is convenient; there's a lot right outside the entrance. Perfect night cap, it hit the spot.
8719 Santa Monica Blvd.
West Hollywood, 90069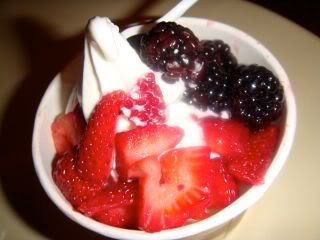 Coffee + Peanut Butter Cup