"Sawasdee Kah."
Although I didn't hear anyone greet me quite like that, they mighty well could have. I went to dinner at the newly opened Mango Tree Bistro last night [Greenbelt 5], and to my surprise was very satisfied with the food. I heard it was a Thai restaurant, and I was just praying it wouldn't be "Filipino" Thai - where everything is sweetened up for our local taste buds. I didn't find that at all in Mango Tree; our dishes had just the right kick, spice, and flavor. I really hope they keep it that way! We attended a tasting dinner and got to sample some of the top dishes from the menu. I took a look at their menu and found other things that I want to go back and try, including some of their drinks as well. They are still in their soft opening stage, so give them a while to warm up in the kitchen. The ambience is not as traditional as the food, it's more of a modern atmosphere with mirrors, beaded window curtains and over-sized red and purple pillows lining the cushioned seats over at the back wall. Come to think about it, those were probably Thai silk pillows... Haha! Anyways, let's show some love and follow Mango Tree on
Facebook
&
Twitter
.
Tom Yum Goong [spicy sour soup w/ mushrooms, shrimps kaffir, lemongrass, fresh herbs]
This was really spicy for me!
Thod Mun Goong [deep fried fresh shrimp cakes w/ sweet chili sauce]

Som Tum Thai [green papaya salad w/ dried shrimps, peanuts, tomato]
Loved this salad, so refreshing.
Talay Prik Thai Dum [stir fried seafood w/ black pepper sauce]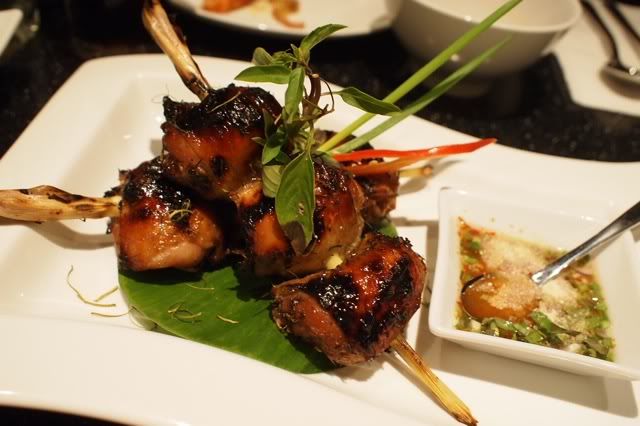 Gai Ta Krai Yung
[grilled lemongrass chicken w/ Thai dipping sauce]
You *must* get this, I think this will be their star best seller.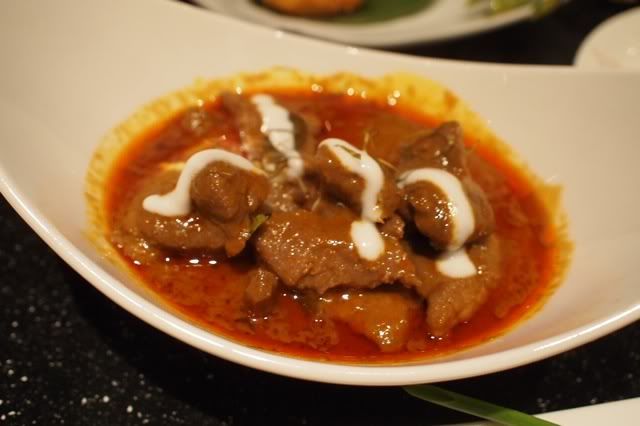 Panang Nua [red curry w/ beef and kaffir lime leaves]
Thanks, love.