Don't be fooled by the blue-painted beach shack while driving along Pacific Coast Highway. I understand it looks a little "out of place" compared to other restaurants planted along the coastal stretch.
Cholada
? A Mexican restaurant perhaps... Nope! Don't you all want to know what is under the roof of this
over sized
hut-like structure? Step inside and you will be blown away by the fresh, flavorful authentically prepared Thai cuisine. 
I cannot believe I didn't know about this place until my junior year at
Pepperdine
! I had been missing out... My good friend Lauren kept on raving about the "golden bags" that I must try at
Cholada
, and that is what first lured me in. Golden bags are now a permanent appetizer on my
Cholada
order. Just pop the mini dumplings dipped in Thai sweet chili into your mouth and you will see why. 
There is no special dress code at
Cholada
, the entire place is very down-to-earth in decor and atmosphere. This family-run restaurant has lots of loyal diners who frequently come back for more fragrant, sweet and spicy flavors. Since it is a bit of a tiny space (read: living room size), the tables are close in proximity and occasionally there's a wait at peak-hour dinner times. The tasty food and unbeatable prices will make up for it, I promise. This is not your typical Malibu priced restaurant by
any
means. The food comes pretty quickly, however sometimes it's annoying when the servers rush you and your party out in order to
accommodate
more customers. With that being said, the local charm of the Thai staff always puts a smile on my face. It reminds me of family vacations in Thailand...
Cholada
does the trick for now.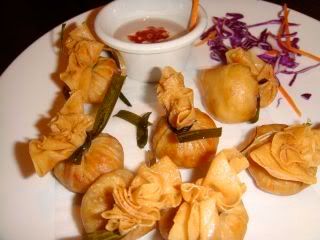 Cholada
Pumpkin - stir fried pumpkin & eggplant in
thai
chili sauce with bell peppers and basil